Welcome to our News Feed!
SAAABA is entering the new decade with a new medium for publishing articles. You can follow our News Feed for timely information, articles, and other announcements. A regular email will still get distributed to members with the articles compiled into a traditional PDF newsletter.
We hope you enjoy the news feed experience!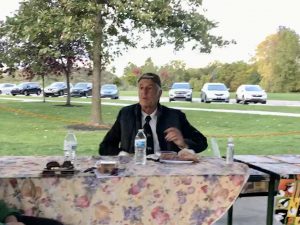 Dinner in the Park - SAAABA Annual Meeting [by Adam Stone]
As with seemingly everything we are doing these days, this year's annual membership meeting took on a new look. The meeting took place on September 29 at Hawk Island (Lansing, MI). An outdoor setting provided a safe environment for members to gather at a distance while enjoying dinner catered by Grand Traverse Pie Company. Our by-laws require an annual meeting and in even-numbered years it was where we hold our elections. This year's ballot included no contested officer races and one vacant board seat, which means that we were able to unanimously approve the new board.
As is tradition, Bill Ballenger was our featured election year speaker. He provided a valuable overview of the 2020 general election with the latest updates on the political realities of the moment. Michigan ballots will include vote on President, US Senator, Congress, State Supreme Court, State Representative, Educational Boards, and two ballot initiatives ontop of various local offices, issues, and judges. Michigan voters will vote on over 10,000 different elected positions and issues if you total up the items on various ballots across the state. This makes Michigan the state voting on the most different items. 
It was a pleasure to hear from Bill while enjoying a delicious meal and the wonderful company of fellow SAAABA members. Thank you to the outgoing board that has grown and improved SAAABA over the last two years. The new board will host its first meeting in the first week of October and get to work on planning events for the next fiscal year. Please let us know if you are interested in serving on the board or would like more information. We appreciate your feedback and continued support.
SAAABA Annual Seminar [by Adam Stone]
Keith Edwards, Director of Education, coordinated and moderated this year's event. After planning a day-long in-person seminar as was customary in past years, the world threw us all a curveball in the form of the Covid-19 pandemic. As a result, the seminar was replanned as a day-long webinar using GoToWebinar, and Keith still managed to knock it out of the park.
We started the day with Sarah Jennings, CPA, CFE, CAE, and Bethany Verble CPA, CFE (Maner Costerisan), teaching us about the significant impact of fraud on public and private entities. Their presentation covered warning signs of fraud (including the fraud triangle), the harm that fraud can cause to the bottom line, and some strategies for identifying, avoiding, and addressing fraud.
Next, Susan Combs, MBA, PCC (Susan Combs Coaching and Consulting) joined us with a presentation on time management strategies. She shared many of the strategies she uses with her coaching clients to help us figure out how we can get more out of each day.
Before breaking for lunch, Lisa Mazure, CPA, MSA (Controller and Adjunct Faculty – Lansing Community College) covered identification of fiduciary activities under GASB 84 along with the applicable financial reporting requirements.
In the afternoon, Laura Clark (Chief Security Officer – Michigan Department of Technology, Management, and Budget) kicked things off by talking about cybersecurity. We learned about the dangers of cyber threats to individuals and governments, along with strategies for securing networking infrastructure. Laura provided insight from the top about how the State of Michigan is addressing the potential vulnerabilities of its systems.
Stephen Blann, CPA, CGFM, CGMA (Rehmann Robson LLC), addressed some of the implications for COVID 19 governmental accounting. The ongoing pandemic has affected financial activities for just about every government entity in the world, so this was a great chance to hear how GASB guides accountants to handle a number of scenarios that many entities will face during this period of disruption.
Neil Kane (Michigan State University), teacher and self-described serial entrepreneur, introduced us to the blockchain. The content included an overview of the functions and applications of cryptocurrency and other uses of blockchain technology.
The grand finale for our day was Laura Hirst, CPA (Office of the Auditor General), with an update on state auditing. The presentation provided an overview of Michigan's OAG with comparison to other states' OAGs. Laura offered some tips for audit subjects with real-life examples. Lastly, her presentation went over the latest happenings in the world of government auditing, including the New Yellow Book.
Thank you to Keith, the rest of the SAAABA Board, and all of this year's attendees! We hope we will get to see all of our members at this year's annual meeting in September. Stay tuned for details and updates as the summer progresses.
May2020 Treasurer's Report [by Susan Saari]
As of May 31, 2020
| | |
| --- | --- |
| Beginning Cash Balance (10/1/19) | 16,025.46 |
| Revenues to date | 1,430.90 |
| Expenditures to date | (3,731.45) |
| Net | (2,300.55) |
| Ending Cash Balance (5/31/20) | 13,724.91 |
| | |
| --- | --- |
| Savings | 8,657.46 |
| Checking | 5,067.45 |
| Total Deposits (5/31/20) | 13,724.91 |
April 2020 Treasurer's Report [by Susan Saari]
As of April 30, 2020
| | |
| --- | --- |
| Beginning Cash Balance (10/1/19) | 16,025.46 |
| Revenues to date | 1,430.53 |
| Expenditures to date | (3,731.45) |
| Net | (2,300.92) |
| Ending Cash Balance (4/30/20) | 13,724.54 |
| | |
| --- | --- |
| Savings | 8,657.09 |
| Checking | 5,067.45 |
| Total Deposits (4/30/20) | 13,724.54 |
February 2020 Treasurer's Report [by Susan Saari]
As of February 29, 2020
| | |
| --- | --- |
| Beginning Cash Balance (10/1/19) | 16,025.46 |
| Revenues to date | 1,075.81 |
| Expenditures to date | (3,424.59) |
| Net | (2,348.75) |
| Ending Cash Balance (2/29/20) | 13,676.68 |
| | |
| --- | --- |
| Savings | 8,656.37 |
| Checking | 5,020.31 |
| Total Deposits (2/29/20) | 13,676.68 |